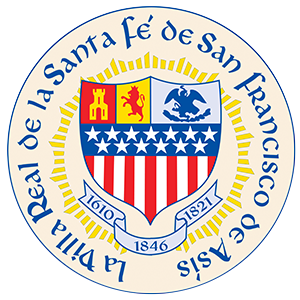 The Santa Fe LED Conversion Project
"This lighting project will make Santa Fe more eco- and family-friendly. We're maintaining our community's distinct character and enhancing its nighttime aesthetics, while achieving a greater sense of safety and security for our residents."—Mayor Alan Webber
The City of Santa Fe is committed to curating a street lighting design that's best for everyone.
Segment 1: South/Southwest
Description: North of I-25, South of 284, West of 14
Estimated Pole Distribution: Residential – 900; Local – 500; Major – 250
Estimated Duration: 1.5 months
Segment 2: Downtown
Description: Downtown and North of Downtown
Estimated Pole Distribution: Residential – 330; Local – 190; Major – 50
Estimated Duration: 1 month
Segment 3: East
Description: South of 14 and 475, North of I-25
Estimated Pole Distribution: Residential – 170; Local – 150; Major – 30
Estimated Duration: 0.5 months
Segment 4: North/West
Description: North of 284, South of 599, West of 285
Estimated Pole Distribution: Residential – 470; Local – 200; Major – 260
Estimated Duration: 1 month
Return to this site for monthly reports on street light outages and repair times.
Dalkia is committed to serving the City of Santa Fe through efficiently upgrading and maintaining the street lights throughout Santa Fe for many years.
Until the conversion project starts, PNM is responsible for maintenance of all city street lights. Head to their website to report an outage.
After the conversion starts, Dalkia will become responsible for maintaining the city street lights that have been converted.
If you'd like to report an outage or request additional lighting, please utilize the form below.
Design Validation
Dalkia captured drone footage of select areas across Santa Fe for before and after comparison. Each video captioned "Before" shows the lighting conditions with the old HPS or old LED lights. Each video captioned "After" shows the lighting conditions now that the street lights have been converted to LED following the Community-Guided Smart Street Lighting Design Plan.
In Segment 1, Governor Miles represents a Residential roadway, Camino Carlos Rey represents a Local roadway, and St. Michael's represents a Major roadway. 
Check back for additional footage across Segments 2, 3, and 4 soon! 
Implementation and Conversion FAQ
What are the specifications of the new LED street lights?
The Community-Guided Smart Street Lighting Design specifications approved by the Governing Body on May 26, 2021 are summarized in the table below. All city-owned street lights will also feature a smart node.
Roadway Type
Correlated Color Temperature (Kelvin) 
Input Wattage Range (W) 
Nominal Lumen Output Range (lumen)
Minimum Color Rendering Index 
IES Distribution
Visual Comfort Refractor 
IES TM-15 Backlight, Uplight, and Glare Rating

Part Number

B
U
G
Residential
2700K
28-45
4,000-5,000
70
Type 2
Required
1
0
1
ATBS P10 MVOLT R2 27K MP VR P7
Local/Collector
3000K
90-100
8,900-12,000
70
Type 2 or Type 3
Required
2
0
2
ATBS P60 MVOLT R2 3K MP VR P7*
Major
3000K
190-200
20,000-24,000
70
Type 2 or Type 3
Not required
3
0
3
ATBM P70 MVOLT R2 3K MP P7
There are a few square fixtures on Governor Miles Road which will require a different fixture type due to the mounting needs. Those fixtures will receive: ATB0 P203 MVOLT R2 3K BZ MP P7
Street lights on NMDOT-owned roads will not be converted until NMDOT guidelines are updated to allow 3000K color temperature luminaires.
When will my street be converted?
Your street will be converted according to the segment maps detailed below. We will move through the City in the following order:
Segment 1: Southwest
Segment 2: Downtown (Northeast)
Segment 3: Northeast
Segment 4: Southeast
What can I expect when the lights on my street are converted?
Our crews will be working during daytime hours in most cases throughout the conversion.
Following safe working practices, crews will use a bucket truck to reach the pole head, remove the existing HPS fixture and install a new LED fixture along with a smart node on the top of each fixture. The node serves two purposes:
it has a photo cell to turn on/off the fixture based on sun light levels.
it is a communication device that enables each light to be controlled and monitored remotely.
The installation process can take anywhere from 20–60 minutes per luminaire, depending on
conditions. Maintenance of Traffic (MoT) procedures will include arrow boards, additional vehicles and additional personnel in compliance with OSHA and FHA standards.
How will existing HPS lights be maintained prior to their conversion to LED?
For maintenance issues on existing HPS lights in Santa Fe, report by calling 888-DIAL-PNM or visit www.PNM.com/streetlights.
How can I request maintenance on the new LED street lights?
Please submit all requests (house-side shields, outage, on during daytime hours, etc.) through the form on this page or call 505-219-3780. Dalkia maintains city-owned street lighting assets. PNM maintains PNM-owned street lighting assets and will forward requests for PNM-owned assets to PNM within 24 hours.
What happens to the old HPS lights?
Lamps and ballasts removed from the project for recycling will have chain of custody documentation and a recycling certificate from the recycling facility provided to the City with associated performance indicators.
What types of community engagement can I expect during the conversion?
Dalkia is excited to continue to engage with the communities of Santa Fe throughout the conversion process—as such, we are excited to offer English and Spanish versions of this project website. Additionally:
This page will feature updates of work for the coming week and work already completed.
Dalkia will perform photometric analyses and colorimetry analyses for design validation—results will be posted here.
Drone footage will be captured of the city before and after the conversion—results will be posted here.
This webpage will feature a new feedback form for constituents in recently converted areas—door hangers will be distributed with a link!
A phone line to Dalkia's New Mexico office will be available for a secondary communication mechanism.
Newsletter updates will be provided near completion of conversion
The City of Santa Fe is proud to partner with Dalkia Energy Solutions, EDF Group and the Public Service Company of New Mexico (PNM) to upgrade the city's infrastructure through a more energy-efficient and cost-effective LED street lighting system.
The city is taking steps to convert all fixtures, including both city-owned and utility-owned street lights.
Santa Fe's dedication to a street lighting system that serves all communities is codified by our Outdoor Lighting Ordinance:
"Reduce light pollution, reduce or prevent glare, reduce or prevent light trespass, conserve energy, promote a sense of safety and security, and ensure aesthetically appropriate outdoor lighting in keeping with the character of Santa Fe" (Ord. No. 2011-37 § 10)
Dalkia is proud to partner with the City of Santa Fe to exceed the expectations set forth by the ordinance.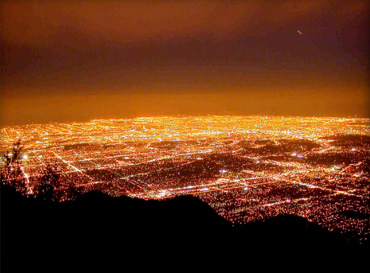 View from Mt. Wilson before LED Retrofit Project
(Los Angeles Basin, 2008)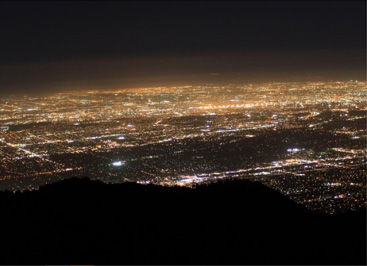 View from Mt. Wilson after LED Retrofit Project
(Los Angeles Basin, 2012)
The current high-pressure sodium street lights are riddled with problems, including:
High failure rate
Consumes an enormous 5.4 million kWh annually
Little or no shielding, allowing light to spill upward into the night sky and into homes
Long delays and unreliable repairs
Failure to meet dark sky lighting regulations and safety-security expectation 
The new LED street lighting system will provide many benefits, including:
Extremely low failure rate, 4x longer life span
Saves 2 million kWh annually
Strong, reliable maintenance—maximum 5 days for repair
Smart technology allows for automatic outage reporting
Full cutoff fixtures guarantee zero uplight, with additional shielding options available
Safety improvements with more consistent, higher-quality lighting
Light shining only on streets and sidewalks, reducing sky glow
Community-Guided Design
Ensured the citizens of Santa Fe understood the technical aspects of street lighting, important terminology is defined below:
Input Power (Watts)
The electric power consumption of light fixtures. Watts are comparable to fuel consumption, while lumens can be compared to miles traveled.
Lumen Output (lm)
Image The total visible light in all directions. The sum of candela measurements.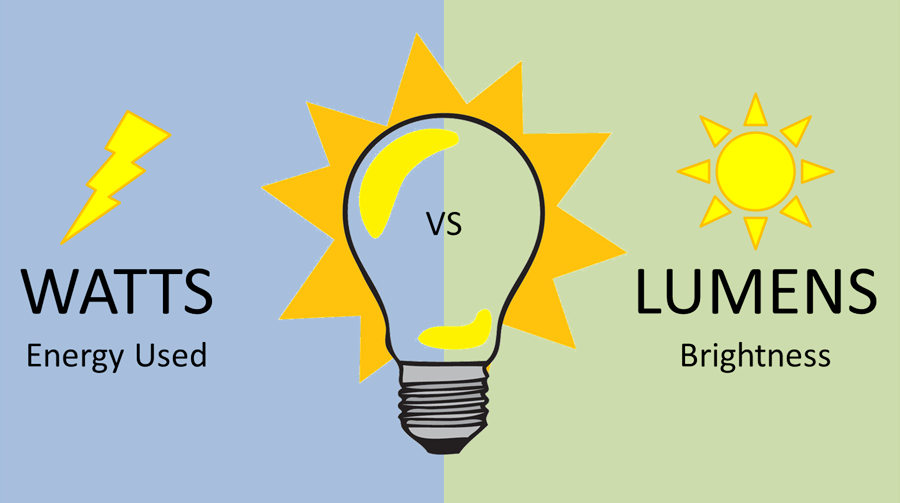 Image Source:  https://www.sepco-solarlighting.com/blog/solar-lighting-design-guide-determine-wattage-/-lumen-requirements
Correlated Color Temperature (CCT)
The temperature of the lamp measured in Kelvin (K). Lights which have lower color temperature appear more orange, while lights with a higher color temperature appear bluer. Important Note! Brightness is the measurement of lumen output, not color temperature.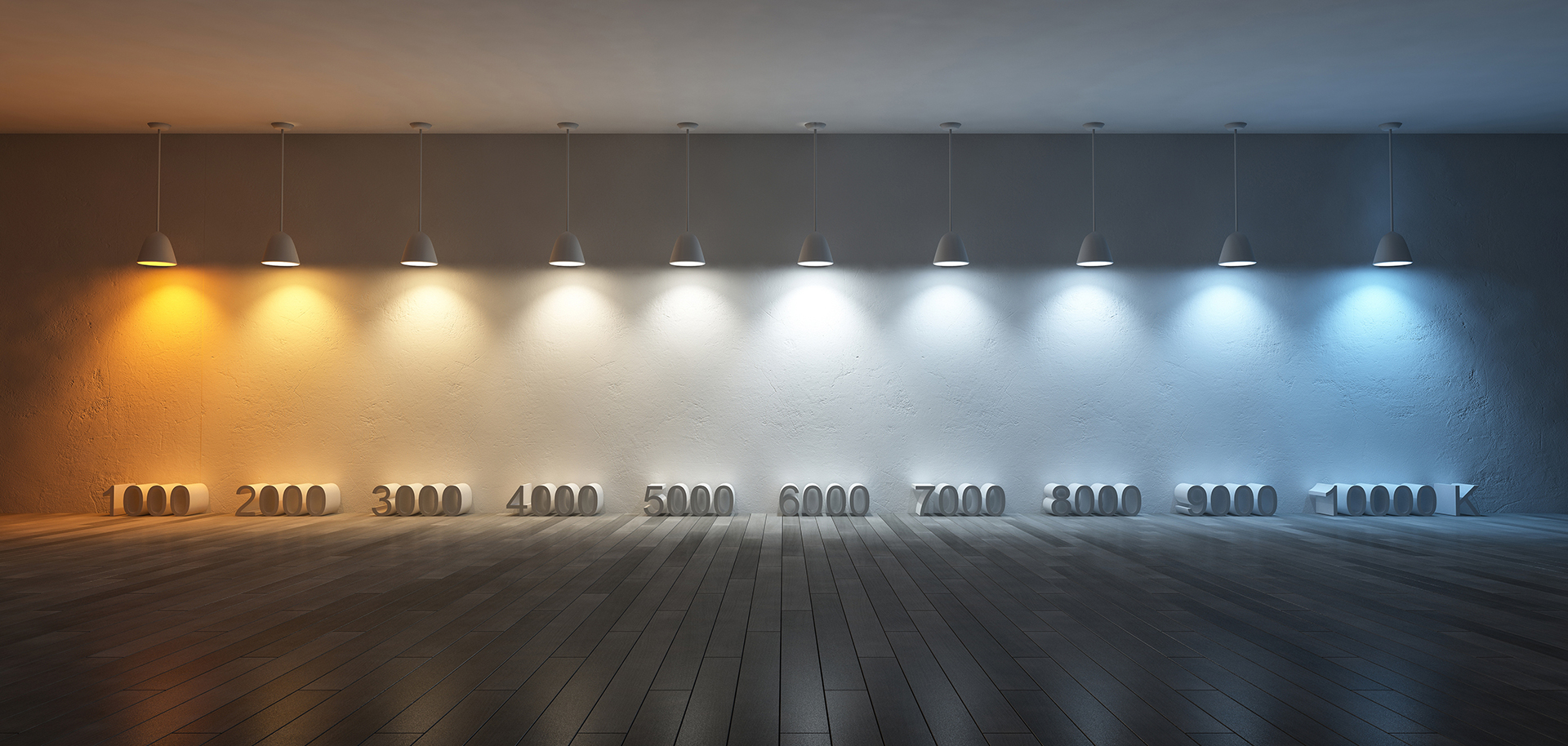 Light Distribution
The throw of the light pattern surrounding each luminaire. Light distribution patterns can be further shaped by additional shielding.

Image Source: https://www.dominionenergy.com/north-carolina-electric/products-and-services/lighting-fixtures
Cut off
The amount of light allowed to spill above the horizontal plane of the fixture. All new LED fixtures will be "full cutoff," meaning they provide 0% uplight. They also restrict backlight to the sidewalk, providing optimal application coverage without scattering light where it's unwanted, like on private property or in house windows.

Image Source: https://www.nps.gov/grca/learn/nature/night-skies.htm
Dimming
The ability of the lumen output of the fixture to be reduced as needed. All city-owned fixtures will be dimmable and the dimming capability is extremely beneficial for night-sky and reducing artificial light impact on wildlife.
Light Shield
An easy and excellent way to prevent light trespass—shields direct light away from unwanted areas and back toward the road.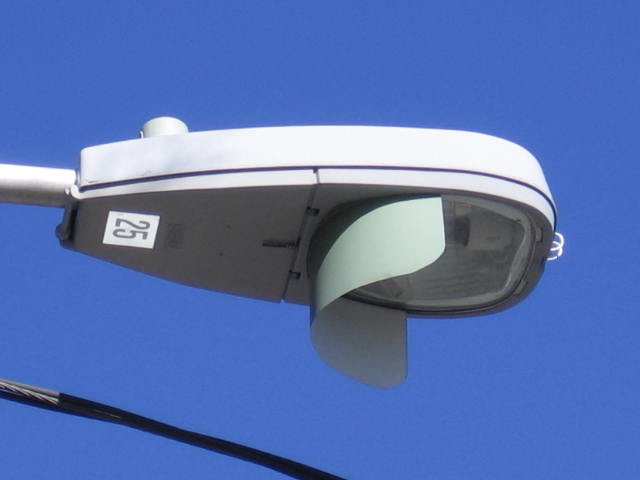 Image Source: https://chpn.net/2016/05/27/your-feedback-wanted-on-improving-the-streetlights/
We Want to Hear From You!
If you would prefer to provide feedback over the phone, call us at (505) 219-3780.